Based in India, IBT English is an eminent English training institute incorporated in 2018. We are a team of highly skilled faculties, strategists, who share a combined passion for transforming the overall IELTS speaking, reading, writing, and listening skill of the students. IBT English is the best IELTS Coaching Institute in Pathankot known for offering 100% practical classes for both general modules and academics. IBT English is a one-stop platform for delivering strategic and engaging training to students. We have great expertise holding faculties who are well versed with the right technique for enhancing the overall performance of the students.
Upcoming Batches
IBT English organizes special batches to render result-oriented coaching for the IELTS exam:
| Day | Session | Timings |
| --- | --- | --- |
| Monday | Morning | 7:00 - 9:00 AM |
| Monday | Morning | 9:00 - 1:00 PM |
| Monday | Afternoon | 1:30 - 5:00 PM |
| Monday | Evening | 3:00 - 6:00 PM |
| Wednesday | Morning | 7:00 - 9:00 AM |
| Wednesday | Morning | 9:00 - 1:00 AM |
| Wednesday | Afternoon | 1:30 - 5:00 PM |
| Wednesday | Evening | 3:00 - 6:00 PM |
| Friday | Morning | 7:00 - 9:00 AM |
| Friday | Morning | 9:00 - 1:00 AM |
| Friday | Afternoon | 1:30 - 5:00 PM |
| Friday | Evening | 3:00 - 6:00 PM |
Why IBT is the best IELTS Institute in Pathankot?
IBT English offers a complete solution to every aspect of the students starting from working on basics to developing speaking fluency. IBT English is an award-winning training center prominently known for its passion, forward-thinking approach, and pure dedication towards all the students. Here, At IBT English we extremely pride ourselves in delivering encouraging results in the past several years. We have optimistic experience in obtaining more than 7 plus bands in IELTS in every module. Still wondering how we can help you achieve your dream! Don't just sit idle, keep reading further to clear your dilemma!
IBT

Special Features
Every student has a different story, so is our teaching strategy. Our work style is to combine students' expectations with great advantages and features that bring encouraging results. IBT English is a leading platform in Pathankot because of its astonishing features which are well versed in grabbing the attention of English learning students. So, the below-mentioned points are self-explanatory on why students choose IBT.
| | | |
| --- | --- | --- |
| | | |
| Free Study Material | Smart Class Room | Full-Day Classes |
| IBT provides free Study Material to all the students. Books Kit contains 9 Books which is updated on a regular basis. | All our classrooms are equipped with projectors which makes the learning very interactive. | IBT provided full-day 8 hours classes to our students. We cover all four modules twice a day for the best results. |
IBT is ranked amongst the reputed coaching institutes due to its highlighted features.
100+ Centers across India

10+ Years of Presence

1 Lakh+ Success Stories

Latest IELTS Book Materials

Trainers Certified from IDP & BCD

ISO 9001: 2008 Certified IELTS Coaching Centre in Pathankot

Small Batch Size having 15-20 students only

Teaching through Smart Classes

Full-Day Classes where students can attempt all four modules twice.

Daily Grammar Classes

Top choice of students for IELTS Coaching Pathankot

Weekly Mock Test as per final exam pattern
IBT is the best IELTS Institute in Pathankot not only in terms of study but in terms of infrastructure as well.
| | | |
| --- | --- | --- |
| | | |
| Front Desk View | Listening Lab | Smart Classrooms |
The success story of IBT can be visibly seen from our top band achievers.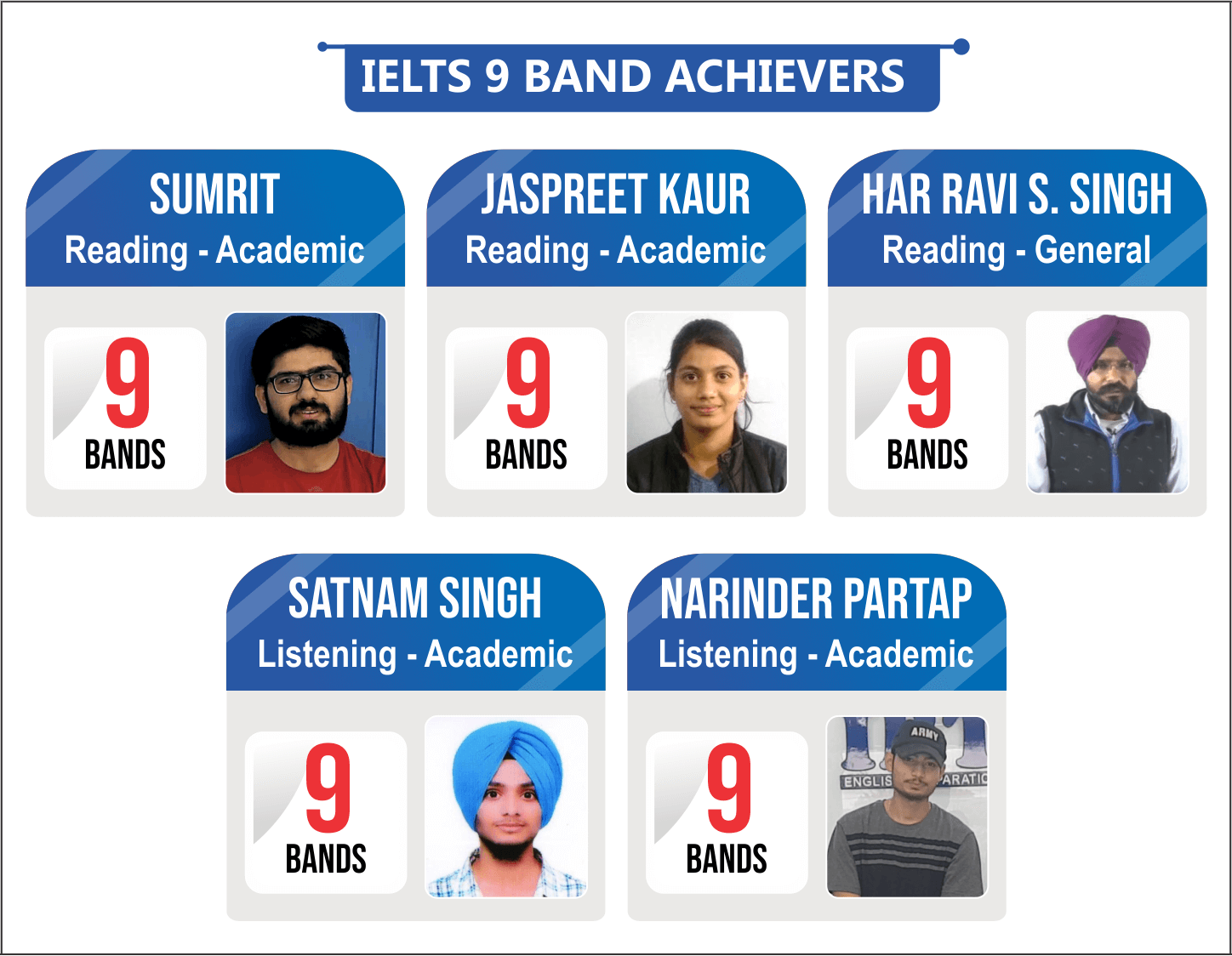 The class activities of IELTS students are managed as given in the table below:
| | |
| --- | --- |
| Vocabulary Building | Hesitation Removal |
| Fluent Conversation | Pronunciation Improvement |
| Group Discussions | Newspaper Reading |
| Motivational Video Lectures | Audio/Video Clips with Tapescripts |
The teaching methodology is very well planned to impart proficient training and guidance with the essential attributes these are:
| | |
| --- | --- |
| Small Batch Size | Multiple Cabin Speaking |
| Smart Class Rooms | Level Based Learning |
| Frequent Doubt Sessions | Scheduled Course Material |
| Personal Attention | Certified & Experienced Faculty |
What IBT is offering you?
ISO Certified Institute - IBT English is an ISO-certified platform working with a motive to match the trends present in the English education industry.

Captivating Infrastructure - IBT's Infrastructure is playing a dominant role in magnetizing a wide variety of students from different cultures, places, etc.

Result Oriented approach - IBT English is devotedly following a result-oriented approach for transforming the overall English fluency of the students. Effective exam preparation tips and techniques are shared with the learners to improve their reading and writing module.

Computer Lab Facility - IBT English takes full consideration to provide the best to students by offering well-mechanized computer labs for attaining full command of the English language.

Weekly Time Table - IBT English has a proper weekly timetable based on each module to strengthen the English proficiency of the students.

Doubt Clearing Sessions - IBT English conducts specific doubt clearing sessions based on specific modules so that students can understand topics without any huddles.

Revision classes - IBT English organizes revision classes at the end of the class. So that potential students can crisply retain delivered lectures.

Daily Assignment - Faculties present in IBT English provide daily assignments after class so that students can form a strong grip on lectures.

A handful of Experience - IBT English is a leading coaching center for delivering high-yealing IELTS training with amazing success results.

Small Batch Size - IBT English conducts classes with small batch sizes having 15-20 students. With a small batch, the faculty have the benefits of focusing on each student and can even mark their performance.

Regular grammar check - IBT English understands that grammar is the backbone of the English language. So, we believe in strengthening the grammar in such a way that it can become a plus point for students in the future.

Weekly Counselling - IBT conducts proper counseling sessions to boost the morale of the students and fill them with never-ending motivation and solve all their queries related to the learning system.

Provide IELTS Tips and Tricks - IBT English shares hacks and smart techniques with students to enhance their learning experience productively.

Monthly Tests - IBT English conducts IELTS monthly tests for each and every module so that students become familiar with the exam pattern. This is done because at the time of the exam they can strongly express their answers.
Join the next batch at the best IELTS Coaching institute in Pathankot. You might also be interested in IELTS exam dates calendar.
Our Testimonials
Still not convinced? See what our happy customers have to say about us.
Good institute for the study and they have best and experienced teachers such as Mr. Kumar Sambhav. Moreover, they are dealing with other events such as sports and other cultural activities which are good to boost students' confidence.
* * * * *
Jagpreet Singh
Good experience. All four modules are explained very well with proper examples and guidelines. All the materials are being provided here only. Good environment and excellent support to students.
* * * * *
Harkamal Singh
IELTS is designed and developed by experts after making extensive research before validating it. It is one of the most trusted tests of the English Language. It is held four times a month on different dates at different test locations. One can opt according to one's convenience and availability. The examiners for IELTS are trained and monitored by IELTS makers regularly to maintain the standard of testing to match the world standards.
IELTS offers a choice according to the purpose of your application i.e for study, work, or permanent migration. One never fails in IELTS as the results are on the basis of bands from 0 – 9, which are allotted to measure all levels of communication skills of the English language. Join no. 1 IELTS institute in Pathankot to score a 7+ band score.
IBT English a widely known coaching institute famous for providing the best IELTS coaching in Pathankot. With our top-notch facilities and faculties, we mark the beginning of students' bright future. Our magnificent skillset-owning teachers help students in sharpening their English fluency in both writing and reading. Being one of the best IELTS coaching centers in Pathankot, we provide personalized guidance to all the students and deliver every lecture by using advanced technologies so that students can grab it effortlessly.
IBT English share information with students about the exam pattern to make them familiar with the basic structure of the exam. This procedure majorly helps students in keeping a track record of what type of modules are there with the weightage. IBT English is operated with a team of highly qualified personalities with versatile experience in hand. So, if you are looking for a platform where you can achieve impossibilities then look no further than IBT English. We assure you that you can rely on us and we will make sure your future is in safe hands.
IBT English helps you to begin with IELTS preparation by establishing the command of the English language and there must be a prepared state of mind to demonstrate English skills in an optimal way. Both the British council Cambridge English Language Assessment [BC] and The International Development program of Australian University and Colleges [IDP] conduct the IELTS exam.
IELTS exam pattern is composed of 4 modules that are listening, reading, writing, and speaking. There are two formats of IELTS namely ACADEMIC and GENERAL TRAINING but now IELTS become more advanced as CD- IELTS is also available for technology lovers. Candidates can give their IELTS exam as paper-based or either computer-based, it depends upon the preference of the candidate. For the detailed differences between IELTS Academic or GT refer to this article.
IBT English progressively aware students that academic IELTS is for those who want to take their higher education abroad while General training IELTS is for the migration in English countries or for the work purpose. There are four modules in both types of IELTS. In academic and general training listening and speaking modules are the same but reading and writing modules are different in the case of content and text but the number of questions are the same. In the writing module writing task 1 is different as in academic it is bar graphs or maps whereas in GT it is a formal or informal letter but writing task 2 is the same in both. In the reading module, the content in academic is taken from documentaries whereas in GT reading content is taken from the newspapers or journals. Read more about IELTS exam overview.
IELTS Academic Test Pattern
Join best IELTS coaching in Pathankot for craking your exam on the first try. But before that let's have a look at the test pattern for IELTS Academic:
IELTS GT Test Pattern
The test pattern for IELTS GT is given below:
For more queries and info visit our IELTS Center in Pathankot. Feel free to check out the videos on their official youtube channel for more clarity about the IELTS test.
IELTS Preparation Tips and Tricks
To appear in the upcoming IELTS exam candidates need to work on their vocabulary. Using new worlds will help them to learn and speak English fluently. If you think you need guidance in scoring 8+ bands in the upcoming IELTS test! If yes, IBT as the best IELTS institute in Ludhiana is the right platform for you.

Candidates are required to do practice under time pressure. Always test yourself in two hours and forty-five minutes time frame, same as the exam day. Most of the best IELTS coaching institutes always advise students to practice under time pressure because the more you practice the better you can manage the time.

Candidates are required to carry relevant ID proofs. They need to carry the same identification documents as used at the time of the application.

At the time of the IELTS, test candidates should double-check the location, time and date of the examination. They should keep enough travel time to avoid getting late.

Candidates should inculcate the habit of proofreading every answer and also check that it is grammatically correct & to the point.

For efficient preparation, the candidate should have reliable and transparent study material. This will not only help the candidate in learning the topics but also help them in revising them at the time of exams.
How is IELTS scored?
IBT English is here to help you achieve all your pre-set goals in terms of IELTS Speaking, Reading, Listening, and Writing. Yes, you read it right! We assist you to achieve 8 plus bands with a regressive preparation process. At IBT English, we focus on inculcating a wide variety of skills in the IELTS four modules. Our faculties brush up English speaking and writing skills starting from basics to advanced level. We make the curriculum in such a manner that students can prepare intensively with the help of superior English training mentors. For detailed information about our quality full services, you are required to fill the below- given form.
IELTS results are reported on a nine-band scale. In addition to the score for overall language ability, IELTS provides a score, in the form of a profile, for each of the four skills (Listening, Reading, Writing, and Speaking). These scores are also reported on a nine-band scale. All scores are recorded on the Test Report Form along with details of the candidate's nationality, first language, and date of birth. Each Overall Band Score corresponds to a descriptive statement that gives a summary of the English language ability of a candidate classified at that level. Our teachers providing IELTS Coaching Centre in Pathankot understand the marks systems completely. The nine bands and their descriptive statements are as follows:
Most universities and colleges in the United Kingdom, Australia, New Zealand, and Canada accept an IELTS Overall Band Score of 6.0 or 6.5 for entry to academic programs. IELTS scores are increasingly being recognized by universities in the USA. Want to join IELTS in Pathankot?
IELTS Reading/Listening Bands Table
The band score table for IELTS Reading/Listening is given below for your ready reference:
Reading Bands Table

Listening Bands Table

Academic

General Training

Band Scores

Academic/General

Band Scores

13 - 14

19 - 22

4.5

13 - 15

4.5

15 - 18

23 - 26

5.0

16 - 17

5.0

19 - 22

27 - 29

5.5

18 - 22

5.5

23 - 26

30 - 31

6.0

23 - 25

6.0

27 - 29

32 - 33

6.5

26 - 29

6.5

30 - 32

34 - 35

7.0

30 - 31

7.0

33 - 34

36

7.5

32 - 34

7.5

35 - 36

37-38

8.0

35 - 36

8.0

37 - 38

39

8.5

37 - 38

8.5

39 - 40

40

9.0

39 - 40

9.0
Here is a detailed article on how you can calculate IELTS overall band.
IELTS Fee Structure
If you are planning to appear for the IELTS test in the coming months! Then this particular section is your one-stop requirement. For appearing in the coming IELTS Exam you need to pay a registration fee of Rs. 15,500.
IELTS Exam Rescheduling Fee
Due to some reasons if the candidate wants to shift or change the IELTS test dates, then they can put a request for the test day transfer at least before five weeks. The candidates will be given a test date after deducting the cancellation/postponement fee. Also, the candidate needs to keep in mind that the new test date must be in the coming three months of the original date. All the candidates are required to pay an administrative charge of rupees INR 3,300 inclusive of all the taxes for the transfer of the IELTS test dates.
IELTS Exam Cancellation Fee
If any candidate will cancel the IELTS application more than five-week before approaching the test date, the candidate will get a refund minus the 25% administrative fee of the exam.
If the candidate cancels the exam in less than exactly five weeks then they will not get any type of refund.

Due to some urgent reason if a candidate fails to appear at the time of the test. Then also he/she will not get a refund. Hence it will ultimately be considered as a cancelation.

Candidates who can produce an authentic medical certificate within the time limit of five days from the test date can get a refund after deducting the local administrative fees.
IELTS Exam Revaluation Fee
If your score is below your expectation and you are not satisfied with it, you are free to apply for enquiry on results. This can be done by contacting the test center where you have appeared for your IELTS test. After applying for enquiry on results for your IELTS test, your test will be evaluated by the senior IELTS examiner who has no idea about your current IELTS score in each module. If there are any changes in the evaluated score then the exam conducting body will issue a new Test Report Form (TRF). The overall fee of revaluation is INR 10,500 including GST.
How to apply for IELTS Exam Revaluation?
Candidates are required to visit the IDP (International Development Program) website for applying for enquiry on results( EOR).

After that, candidates should log in to the website with their IELTS exam appearing ID and Password.

Then they should click on the EOR option and fill in the Passport and test date option.

After this candidates need to select the subject in which they require remarking and pay the fees.

The head office will notify your re-mark result within 21 days of the receipt of the complete exam material and documents.
The list of official dates for the IELTS exam is given below:
IELTS Exam Dates in April 2021
| Test Dates | Test Type | IELTS Exam Fees |
| --- | --- | --- |
| Saturday, 10 April 2021 | Academic Only | INR 15,500 |
| Saturday, 17 April 2021 | Academic and General Training | INR 15,500 |
| Saturday, 24 April 2021 | Academic and General Training | INR 15,500 |
| Thursday, 29 April 2021 | Academic Only | INR 15,500 |
Some of the frequently asked questions for the IELTS exam and the facts related to it are given below:
Q1) What is the registration fee for IELTS?
In India, the registration fee for the IELTS exam from April onwards is INR 15,500. Join IBT for IELTS Coaching in Pathankot now.
Q2) How can I register for IELTS?
IELTS is conducted by IDP & British Council. You can register and pay for IELTS through a range of payment options. For more information on the registration process & payment options, please visit British Council Exam Registration or IELTS IDP India.
Q3) What is the validity of the IELTS test?
The validity of the IELTS test is of 2 years from the day you took the IELTS test.
Q4) What is the minimum age requirement for the IELTS Test?
As per the norms and conditions, those who are under 16 are not eligible for the IELTS test.
Q5) What are the available IELTS test dates?
Four test dates are available every month. IDP & BC give 48 fixed dates in a year. Check IELTS exam calendar.
Q6) How can I book or register for my IELTS test?
You can book your test either through the official sites of IDP/ BCD or your IELTS test center.
Q7) What if I need to postpone or cancel my IELTS test?
The candidate needs to inform five weeks before your test date.
Q8) What does IELTS mean?
IELTS means International English Language Testing System.
Q9) How many times can I take the IELTS test?
There is no such specification. You can take the IELTS test as many times as you want.
Q10) When will I receive my IELTS result?
You will receive your test result after 13 days of the test day.
Q11) What is the fee for the IELTS test?
IELTS test fee is Rs.15,500 for both academics and GT.
Q12) What is the difference between IELTS Academic and IELTS General?
Academic IELTS Academic is conducted for the students who want to pursue higher education; whereas, GT IELTS is conducted for the job or business purposes.
Q13) How is the IELTS test marked?
IELTS test is marked between 0 and 9 bands. Writing test is marked by a minimum of two examiners and sometimes even up to three or four examiners. You can view your IELTS results online.
Q14) What if I lose my IELTS test report form?
The Candidate needs to contact the test center where he has booked his test. Otherwise, the candidate has to contact IDP or BCD Office. IBT Pathankot provides the exam booking and IELTS Coaching Pathankot.
Q15) How soon can I re-sit the test?
You need to take the test before 13 days of the deadline. The deadline is decided by the IDP or BCD.
Q16) What if I feel my test result is wrong?
In this case, you can request the re-evaluation of the IELTS test result.
Q17) Which countries accept IELTS scores?
There are more than 140 countries that accept IELTS scores including the UK, Australia, Canada, New Zealand, and the USA.
Q18) What can I take into the examination room?
You only need to bring your passport & stationery with you in the IELTS exam room.
Q19) How to crack the IELTS exam?
The English language has become the part and parcel of our lifestyle, be it the workplace, meeting people, or studying abroad. IBT has a solution to meet this challenge by initiating various language ethics programs. We deliver our programs with efficiency and speed to give the right direction and at the right time. We are connecting with the young generation with creative ideas. IBT is the right destination to meet all requirements which are based on the English language, be it teaching English or taking an exam, or studying abroad. We offer flexible IELTS programs in Pathankot to get their score in IELTS private or IELTS group lessons. Here is a guide to preparing for IELTS exam online.
Q20) Why choose IBT for IELTS exam preparation?
IBT is known for providing the best results in the IELTS exam since 2009. We have a team of experienced trainers working continuously to enhance the students' capabilities for achieving higher bands. We have a record of producing 7+ Bands in all four modules.
Q21) What are the facilities available at IBT Pathankot?
Smart classes, experienced teachers, latest study material, daily flashcards, grammar & vocab classes.
Q22) What is the duration of IELTS classes in IBT Pathankot?
It's 4-8 hours every day from Monday to Friday. Mock tests are conducted every Saturday. Duration varies from 1 month - 3 months. You can join our IELTS center in Pathankot.
Q23) Where IBT Institute is located in Pathankot?
IBT has a campus in Pathankot. First Floor, Behind Hotel Venice, Beside SBI Main Branch Dhangu Road Pathankot, 145001. You can join IBT for the best IELTS coaching classes in Pathankot.

Q24) Why IBT is a No. 1 IELTS institute in Pathankot?
IBT is known to produce excellent results in the IELTS exam. More than 80% of students at IBT are able to get 6.5+ bands in the IELTS. This is why IBT is the best IELTS institute in Pathankot.
Q25) When new IELTS batch is coming to IBT Pathankot?
IBT Pathankot starts a new batch every Monday, Wednesday, and Friday for different slots like 7-9 am,9-2 pm, 9-5 pm, and 4-6 pm.
Q26) What is the success rate of IBT in the IELTS Exam?
The success rate in IBT is more than 80% in both IELTS Academic and General Training exams.
Q27) Does IBT Pathankot provide a demo class for IELTS?
Yes! IBT Pathankot provides a free 1-day demo class for IELTS Coaching in Pathankot.