IBT English is known for delivering effective IELTS coaching to all abroad aiming students. We are a team of highly skilled faculties, and strategists, who share a combined passion for transforming the overall IELTS speaking, reading, writing, and listening skills of the students.
IELTS Institute in Sangrur is known for offering 100% practical classes for both general and academic modules. IBT English is a one-stop platform for delivering strategic and engaging training to students. If you aim to attain command over the English language then without thinking further join the best IELTS Coaching in Sangrur - IBT English.
Are you aiming to find out quality information about the upcoming IELTS batches of the IBT institute? Then read all the information listed below.
We have two batches on every Monday and Thursday so that students can take the leverage of classes without any hassle.
Day

Timing

Every Monday

7 AM -10 AM,

9 AM - 1 PM,

9 PM - 5 PM,

2 PM - 5 PM

Every Thursday

7 AM - 10 AM,

9 AM - 1 PM,

9 PM - 5 PM,

2 PM - 5 PM
At IBT English we have divided IELTS learning into three levels. Before the enrollment of the student, we access their English proficiency of the student and then allot them a specific type of level according to their knowledge. All three levels are truly different from each other and students will get the chance to learn all the majors and minors of the English language. IBT English will surely provide you with coaching based on three descriptive levels. So if you want more information about the three levels and aiming to get full guidance from the best IELTS Coaching in Sangrur then consider reading the below-mentioned table carefully:
Beginner

Learners

Movers

5-10 Days Batch

15-30 Days Batch

6 Days Batch

1 Mock Test

2-5 Mock Tests

5-6 Mock Tests

Introduction Program for IELTS

Pre & Post Discussions

Only Post Discussion After Test

Daily Open Module

Smart Classes

Only For Students Filled their Test

Short-Length Reading Tests

Daily Grammer Classes

20 Cabin Speaking Sessions

Daily Grammer Classes

Time Management Techniques

Vocabulary Sessions

Bilingual Classes (Punjabi & Hindi)

WT-1 & 2 Covers Everyday

Video Tutorials by British Council Ex- Examiner

Focused Speaking Sessions

Monthly Reality Test

Writing & Speaking Score Allocation As Per BCD & IDP

Tips & Techniques To Solve Questions

2 Speaking Sessions Everyday

Time Management Techniques

Approaches To Handle Modules

Daily Vocabulary Sessions

Basic Grammer Classes
We are providing an exclusive and bumper discount at IELTS institute. It's time to avail the benefit and reserve your seat at worth enrolling prices!
Check out our below-given fee structure and enroll in the coming batch now:
| Duration | Fees |
| --- | --- |
| 1 Month | 8,500 INR |
IBT English is the right institute providing the best IELTS Coaching in Sangrur not only in terms of study but in terms of infrastructure as well.
| | | |
| --- | --- | --- |
| | | |
| Front Desk View | Listening Lab | Smart Classrooms |
| | | |
| --- | --- | --- |
| | | |
| Experienced Trainers | Real Time Exam Simulation | Result Oriented Approach |
| IBT Sangrur has a team of Experienced IELTS Coaching Faculty members who have years of teaching experience. | Our computer lab provides the exact simulation of a Real IELTS Exam. Students can practice for unlimited hours. | IBT Sangrur is devotedly following a result-oriented approach for transforming the overall English fluency of the students. |
| Qualified Faculty Members | Real IELTS Exam Experience | Results Based Intend |
Our work style is to combine students' expectations with great advantages and features that bring encouraging results. So, the below-mentioned points are self-explanatory on why students should choose us.
| | | |
| --- | --- | --- |
| | | |
| Free Study Material | Smart Class Room | Full-Day Classes |
| We provide free Study Material to all the students. Our book set contains 9 Books which are updated on a regular basis. | All our classrooms are equipped with projectors which makes learning very interactive. | IBT provides full-day 8 hours classes to our students. We cover all four modules twice a day for the best results. |
Here at IBT's best IELTS Coaching in Sangrur, you will get all possible facilities to attain command over English. The class activities of IELTS students are managed as given in the table below:
| | |
| --- | --- |
| Vocabulary Building | Hesitation Removal |
| Fluent Conversation | Pronunciation Improvement |
| Group Discussions | Newspaper Reading |
| Motivational Video Lectures | Audio/Video Clips with Tapescripts |
The teaching methodology is very well planned to impart proficient training and guidance with the essential attributes these are:
| | |
| --- | --- |
| Small Batch Size | Multiple Cabin Speaking |
| Smart Class Rooms | Level Based Learning |
| Frequent Doubt Sessions | Scheduled Course Material |
| Personal Attention | Certified & Experienced Faculty |
ISO Certified Institute
Our Institute providing IELTS Coaching in Sangrur is an ISO-certified platform working with a motive to match the trends present in the English education industry.
Captivating Infrastructure
IBT's Infrastructure is playing a dominant role in magnetizing a wide variety of students from different cultures, places, etc.
Result Oriented Approach
We are devotedly following a result-oriented approach for transforming the overall English fluency of the students. Effective exam preparation tips and techniques are shared with the learners to improve their results.
Computer Lab Facility
We provide students with the chance to improve their English proficiency by taking the leverage of our productive computer lab classes.
Weekly Time Table
We have a proper weekly timetable based on each module to strengthen the English proficiency of the students.
Doubt Clearing Sessions
We conduct specific doubt-clearing sessions based on specific modules so that students can understand topics without any hurdles.
Revision Classes
IBT English organizes revision classes at the end of the class. So that potential students can crisply retain delivered lectures.
Daily Assignment
Faculties present in IBT English provide daily assignments after class so that students can form a strong grip on lectures.
A handful of Experience
We are a leading IELTS Institute providing the best IELTS Coaching in Sangrur for delivering high-yealing IELTS training with amazingly successful results.
Small Batch Size
We conduct classes with small batch sizes having 15-20 students. With a small batch, the faculty have the benefit of focusing on each student and can even mark their performance.
Regular Grammar Check
We understand that grammar is the backbone of the English language. So, we believe in strengthening the grammar in such a way that it can become a plus point for students in the future.
Weekly Counselling
We conduct proper counseling sessions to boost the morale of the students and fill them with never-ending motivation and solve all their queries related to the learning system.
Provide IELTS Tips and Tricks
We share hacks and smart techniques with students to enhance their learning experience productively.
Monthly Tests
We conduct IELTS monthly tests for each and every module so that students become familiar with the exam pattern. This is done because at the time of the exam they can strongly express their answers
Join the next batch at the IELTS institute in Sangrur. You might also be interested in IELTS exam dates calendar.
Are you devotedly searching for a magnificent platform providing best online IELTS Coaching in Sangrur? IBT English will surely provide you with effective IELTS online classes for the betterment of the students. From flexible batches to best study material, we strive to deliver every possible facility to students so that they can achieve great bands in the upcoming IELTS exam. Our multidisciplinary team of adept faculties strives to deliver encouraging results with the help of modern technologies. IELTS Online Classes can offer your 135 countries recognise IELTS as proof of English language proficiency for educational, immigration and professional purposes.
Seamless streaming and learning from your desired space

Best IELTS online practice test material

Regular IELTS Mock tests to keep a track of performance
Still not convinced? See what our happy customers have to say about us.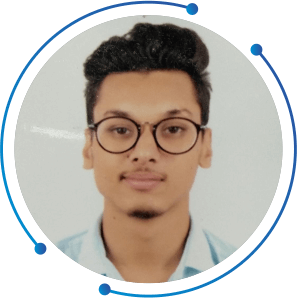 Munish

I had a great experience while studying IELTS in IBT, the staff was very co-operating and helpful. I suggest everyone to come and get good coaching/counseling regarding IELTS/PTE as it provides the most satisfactory IELTS Coaching in Sangrur.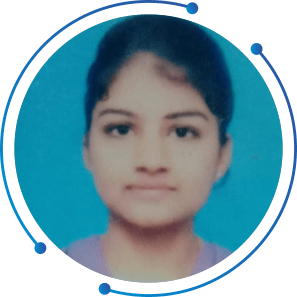 Sneha Kapadia

IBT Institute is the best IELTS Institute in Sangrur I had a good experience here. The teachers are very cooperative. I take grammar class and spoken classes. So, I recommend this coaching institute to everyone.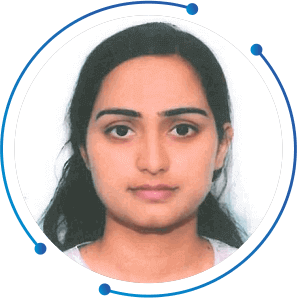 Srishti

I feel extremely good after being part of such a great education brand. Thank You IBT English for helping me achieve my desired goal. They helped me a lot in achieving quality bands in the upcoming IELTS exam.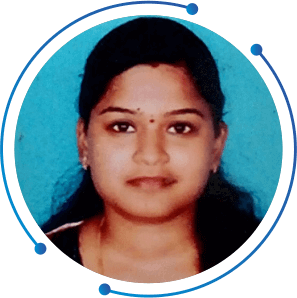 Meena

Are you also searching for the IELTS institute? Then IBT can change your life and help you achieve greatness in the world. They provide the right IELTS Coaching in Sangrur.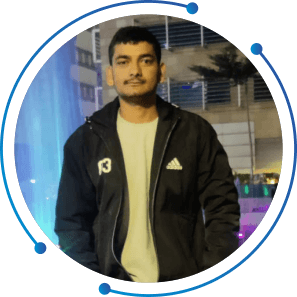 Aniket Mishra

IBT institute not only helped me in getting good bands in IELTS but also helped me in transforming my entire personality. With their help, I scored 8 bands in the IELTS examination. Thank you so much IBT institute.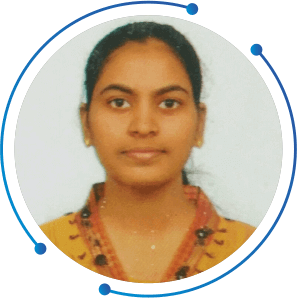 Gurkamal

Before taking admission in IBT I was considered as the most introverted person in my friend circle but when I joined IBT they helped me work on my speaking skill.
IELTS Institute in Sangrur
All the individuals who seek to study on an international level go for IELTS to check their English proficiency. Without a doubt, the craze of appearing for the IELTS is rising on a greater level. If you are also aspiring to achieve great results in the IELTS exam then look no further than IBT English. Here you will get quality study material with advanced teaching methodologies. We focus on result-oriented classes in our IELTS Coaching in Sangrur so that students will be able to achieve their desired results in a limited duration of time. So if you also aim to amp up your IELTS preparation journey then hold the hand of IBT English.
The success story of IBT can be visibly seen in our top band achievers.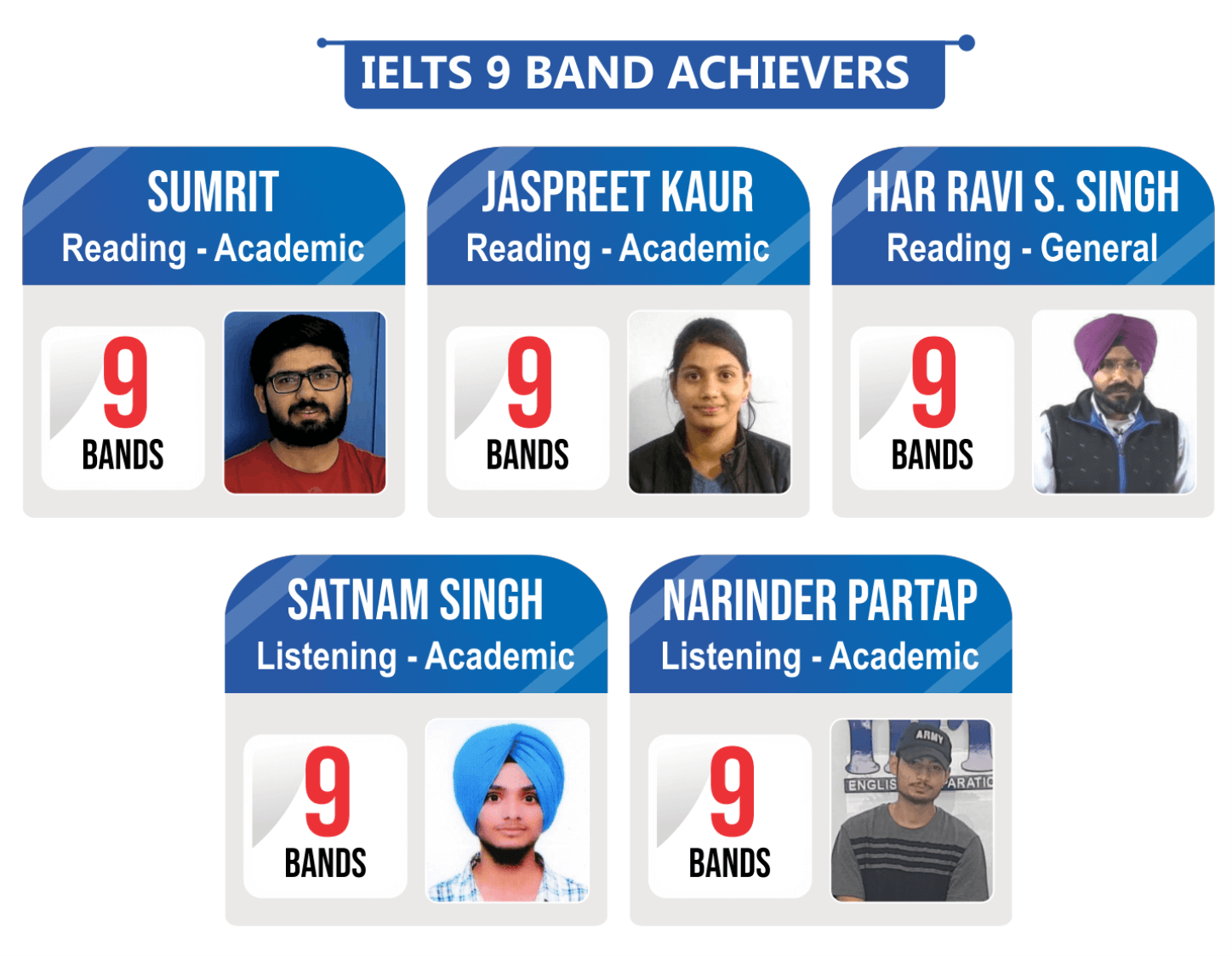 IBT English has a great treasure of awards presented for maintaining an optimistic ranking in the entire education industry.
IELTS is designed and developed by experts after doing extensive research before validating it. It is one of the most trusted tests of the English Language. It is held four times a month on different dates at different test locations. One can opt according to one's convenience and availability.
The examiners for IELTS are trained and monitored by IELTS makers regularly to maintain the standard of testing to match the world standards. One never fails in IELTS as the results are on the basis of bands from 0 – 9, which are allotted to measure all levels of communication skills in the English language. Our best IELTS institute in Sangrur is widely known for providing top-notch IELTS coaching. With our great facilities and faculties, we mark the beginning of students' bright future.
Do you often feel the urge to study on an international level? Have you made up your mind to enroll in a foreign university program? Then you can consider opting for the IELTS Exam. You can easily taking best IELTS Coaching in Sangrur. It is one of the most prominent English proficiency rating tests. Let's understand why appearing for the IELTS exam is best for students:
IELTS is widely recognized by 9,000 companies in over 135 countries. This test is basically considered as proof of English language proficiency. All the students who desire to move to the international level for educational, professional and immigration purposes can appear for this test.

This test is one of the apt ways to improve your entire English language skills.

IELTS will surely help you in getting an open entry into the best universities and colleges in the world.

This test basically covers the British and American English languages.
At our IELTS institute, you will get the chance to become efficient in all four modules. There are basically four modules of IELTS as stated below:
Reading
It includes 40 questions that are to be solved in 60 minutes. There will be a total of three passages and around 12 questions in each passage with a time constraint of 20 minutes for each passage.
Writing
It comprises Task 1 and Task 2. The test time for the writing module is 60 minutes, where one has to give 20 minutes to Task 1 and 40 minutes to Task 2.
Listening
This module consists of 40 questions, where one has to listen to a conversation for 30 minutes. Afterwards, a candidate gets 10 minutes to note down the answer on the answer sheet.
Speaking
In this module, candidates go through one-to-one interaction of 10-15 minutes with the examiner.
IBT English shares information with students about the exam pattern to make them familiar with the basic structure of the exam. This procedure majorly helps students in keeping a track record of what type of modules are there with the weightage. We work with a team of highly qualified personalities with versatile experience in hand. So, if you are looking for a platform where you can achieve impossibilities then look no further than IBT English. We assure you that you can rely on us and we will make sure your future is in safe hands.
The pattern of IELTS exam is composed of 4 modules that are listening, reading, writing, and speaking. There are two formats of IELTS namely Academic and General Training but now IELTS become more advanced as CD- IELTS is also available for technology lovers. Candidates can give their IELTS exam as paper-based or either computer-based, it depends upon the preference of the candidate. Academic IELTS is for students who want to take their higher education abroad while General training IELTS is for migration into English land or for work purpose. Get full information about the IELTS exam from the right Insitute offering quality IELTS Coaching in Sangrur.
IELTS Academic Test Pattern
Join the IELTS institute in Sangrur for cracking your exam in the first try. But before that let's have a look at the test pattern for IELTS Academic:
IELTS GT Test Pattern
Get quality information about the IELTS GT test pattern from the IELTS institute offering the best IELTS Coaching in Sangrur. The test pattern for IELTS GT is given below:

For more queries and info visit our IELTS institute. Feel free to check out the videos on their official youtube channel for more clarity about the IELTS test.
Enhancement in the Vocabulary
To appear in the upcoming IELTS exam candidates need to work on their vocabulary. Using new words will help them to learn and speak English fluently. If you think you need guidance in scoring 8+ bands in the upcoming IELTS test! IBT is the right IELTS Coaching in Sangrur for you.
Practice
Candidates are required to practice under time pressure. Always test yourself in two hour and forty- five minutes time frame, same as the exam day. Most of the best IELTS institute in Sangrur always advise students to practice under time pressure because the more you practice the better you can manage the time.
Proof of Identification
Candidates are required to carry relevant ID proofs. They need to carry the same identification documents as used at the time of the application.
Pre-Checking
At the time of the IELTS, test candidates should double-check the location, time and date of the examination. They should keep enough travel time to avoid getting late.
Proofreading
Candidates should inculcate the habit of proofreading every answer and also check that it is grammatically correct & to the point.
Best Study Material
For efficient preparation, the candidate should have a reliable and transparent study material. This will not only help the candidate in learning the topics but also help them in revising them at the time of exams.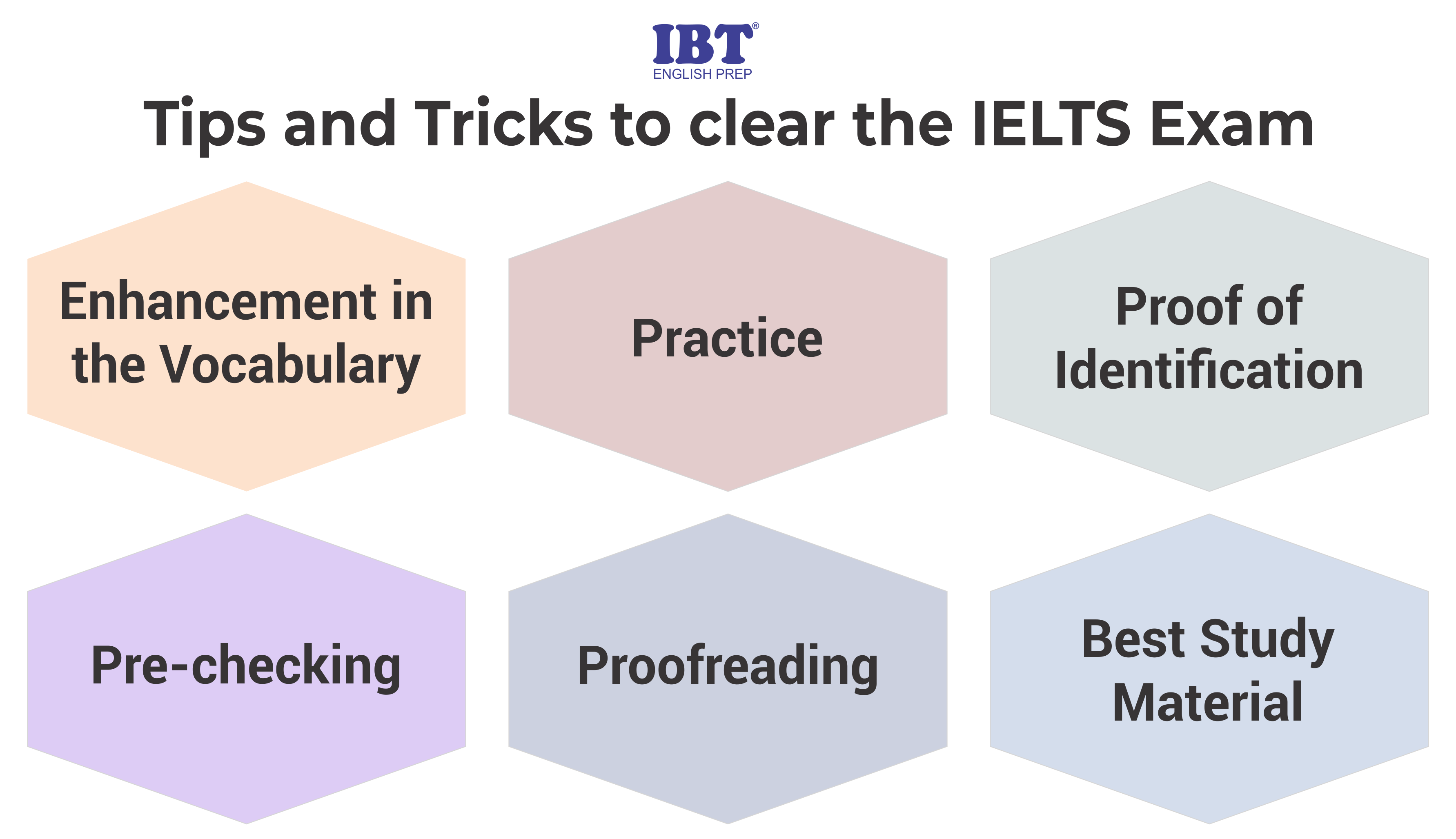 IBT English is here to help you achieve all your pre-set goals in terms of IELTS Speaking, Reading, Listening, and Writing. Yes, you read it right! We assist you to achieve 8 plus bands with a regressive preparation process.We focus on inculcating a wide variety of skills in the IELTS four modules. We make the curriculum in such a manner that students can prepare intensively with the help of superior English training mentors. For detailed information about our quality full services, you are required to fill out the below- given form.
IELTS results are reported on a nine-band scale. In addition to the score for overall language ability, IELTS provides a score, in the form of a profile, for each of the four skills (Listening, Reading, Writing, and Speaking). These scores are also reported on a nine-band scale. All scores are recorded on the Test Report Form along with details of the candidate's nationality, first language, and date of birth. Each overall band score corresponds to a descriptive statement that gives a summary of the English language ability of a candidate classified at that level. Our teachers at the IELTS institute in Sangrur understand the marks systems completely. The nine bands and their descriptive statements are as follows:
| | |
| --- | --- |
| Overall Bands | Remarks |
| 9 | The expert user has a fully operational command over the language. He/She is accurate and fluent with complete understanding. |
| 8 | Very good user has fully operational command over the language with only occasional unsystematic inaccuracies. Misunderstandings may occur in unfamiliar situations. He/She can handle complex detailed argumentation well. |
| 7 | Good user has operational command over the language with occasional inaccuracies and misunderstandings in some situations. Generally, he/she handles complex language well and understands detailed reasoning. |
| 6 | Competent users have, generally, effective command over the language despite some inaccuracies and misunderstandings. He/She can use and understand fairly complex language, particularly in familiar situations. |
| 5 | Modest user has partial command over the language, coping with overall meaning in most situations, though is likely to make many mistakes. He/She is able to handle basic communication. |
| 4 | Limited user is restricted to familiar situations. He/She has frequent problems in understanding and expressing. He/She is not able to use complex language. |
| 3 | Extremely limited user conveys and understands the general meaning in very familiar situations. |
| 2 | Intermittent users can face no real communication except for the most basic information using isolated words or short formulae in familiar situations. He/She has great difficulty understanding spoken and written English. |
| 1 | Non-user essentially has no ability to use the language beyond using the words in isolation. |
| 0 | Did not attempt the test— No assessable information. |
Most universities and colleges in the United Kingdom, Australia, New Zealand and Canada accept an IELTS Overall Band Score of 6.0 or 6.5 for entry to academic programs. Want to get the best IELTS Coaching in Sangrur? Consider enrolling at IBT English.
The band score table for IELTS Reading/Listening is given below for your ready reference:
Reading Bands Table

Listening Bands Table

Academic

General Training

Band Scores

Academic/General

Band Scores

13 - 14

19 - 22

4.5

13 - 15

4.5

15 - 18

23 - 26

5.0

16 - 17

5.0

19 - 22

27 - 29

5.5

18 - 22

5.5

23 - 26

30 - 31

6.0

23 - 25

6.0

27 - 29

32 - 33

6.5

26 - 29

6.5

30 - 32

34 - 35

7.0

30 - 31

7.0

33 - 34

36

7.5

32 - 34

7.5

35 - 36

37-38

8.0

35 - 36

8.0

37 - 38

39

8.5

37 - 38

8.5

39 - 40

40

9.0

39 - 40

9.0
IELTS Fee Structure
If you are planning to appear for the IELTS test in the coming months! Then the best IELTS institute in Sangrur will provide you with the right information about the fee structure. For appearing in the coming IELTS exam you need to pay a registration fee of Rs. 15,500.
For some reason, if the candidate wants to shift or change the IELTS test dates, then they can put in a request for the test day transfer at least before five weeks. The candidates will be given a test date after deducting the cancellation/postponement fee. Also, the candidate needs to keep in mind that the new test date must be within the coming three months of the original date. All the candidates are required to pay an administrative charge of rupees INR 3,300 inclusive of all the taxes for the transfer of the IELTS test dates.
If any candidate will cancel the IELTS application more than five-week before approaching the test date, the candidate will get a refund minus the 25% administrative fee of the exam.
If the candidate cancels the exam in less than exactly five weeks then they will not get any type of refund.

Due to some urgent reason if a candidate fails to appear at the time of the test. Then also he/she will not get a refund. Hence it will ultimately be considered as a cancellation.

Candidates who can produce an authentic medical certificate within the time limit of five days from the test date can get a refund after deducting the local administrative fees.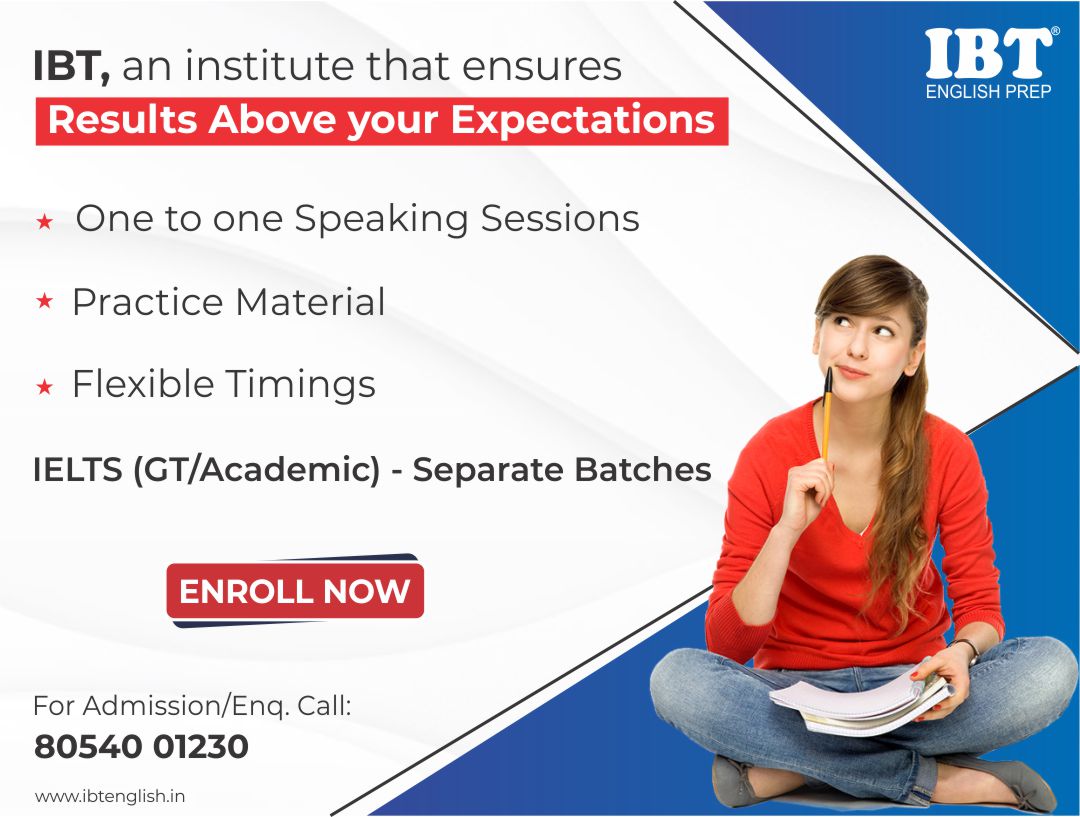 If your score is below your expectation and you are not satisfied with it, you are free to apply for enquiry on results. This can be done by contacting the test centre where you have appeared for your IELTS test. After applying for enquiry on results for your IELTS test, your test will be evaluated by the senior IELTS examiner who has no idea about your current IELTS score in each module. If there are any changes in the evaluated score then the exam conducting body will issue a new Test Report Form (TRF). The overall fee of revaluation is INR 11,025 including GST.
Step 1: Candidates are required to visit the IDP (International Development Program) website for applying for enquiry on results( EOR).
Step 2:After that, candidates should log in to the website with their IELTS exam appearing ID and Password.
Step 3:Then they should click on the EOR option and fill in the Passport and test date option.
Step 4:After these candidates need to select the subject in which they require remarking and pay the fees.
Step 5:The head office will notify your re-mark result within 21 days of the receipt of the complete exam material and documents.
IBT English as the IELTS institute offering quality IELTS Coaching in Sangrur provides coaching on other English proficiency courses such as CELPIP, PTE and Spoken English. You will get the opportunity to get coaching for your desired English proficiency test.
| | |
| --- | --- |
| PTE | Looking for the best PTE coaching institute in Sangrur? If yes, your search will end with the IBT English. PTE is a computer-based academic English-based test that examines reading, writing and listening capabilities of a candidate. So, ace your English language by joining IBT English. |
| Spoken English | In today's global society, English is one of the most preferred spoken languages. Connect with IBT English, if you wish to speak English with great fluency. We have a bunch of adept and experienced teaching faculty that'll help you at each step while learning the English language. |
| CELPIP | This is a computer delivered single sitting English test that is administered by the paragon testing enterprises. IBT English is a prominent institute that offers top-notch CELPIP coaching classes. We have well-equipped labs where students can practice mock tests to brush up their caliber. |
IELTS Academic
Ques 1) What is the basic passing score of the IELTS exam?
Ans) The average of all the sections is used to calculate the overall band score. The IELTS examination is graded on a scale of 0 to 9. There is no such thing as passing or failing when it comes to assessing a candidate's language abilities. Majority of the educational institutes across the world require 7 bands in the IELTS exam.
Ques 2) Which countries accept IELTS Academic scores?
Ans) There are more than 140 countries that accept IELTS scores including the UK, Australia, Canada, New Zealand and the USA.
Ques 3) How to crack the IELTS Academic exam?
Ans) The English language has become a part and parcel of our lifestyle, be it the workplace, meeting people or studying abroad. IBT has a solution to meet this challenge by initiating various language ethics programs. We deliver our programs with efficiency and speed to give the right direction and at the right time.
Ques 4) What if I lose my IELTS test report form?
Ans) The Candidate needs to contact the test centre where he has booked his test. Otherwise, the candidate has to contact the IDP or BCD Office. IBT is known as the right IELTS institute providing quality IELTS Coaching in Sangrur.
Ques 5) Why pick IBT English for IELTS Academic exam preparation?
Ans) IBT is known for providing the best results in the IELTS exam since 2009. We have a team of experienced trainers working continuously to enhance the student's capabilities for achieving higher bands. We have a record of producing 7+ Bands in all four modules.
IELTS General
Ques 1) What if I suspect my IELTS general test result is incorrect?
Ans) In this case, you can ask for the IELTS test result to be re-evaluated.
Ques 2) What if I need to postpone or cancel my IELTS general test?
Ans) The candidate needs to inform you five weeks before your test date.
Ques 3) What is the success rate of IBT in the IELTS Exam?
Ans) The success rate in IBT is more than 80% in both IELTS Academic and General Training exams.
Ques 4) What is the basic requirement of bands in the IELTS general exam?
Ans) You need to score at least 7 bands for availing better opportunities in foreign countries. Otherwise, there are different requirements for every country. IBT English is the Best IELTS coaching institute in Sangrur that will help you score high bands in the IELTS general exam.
Ques 5) What is the fee for the IELTS general test?
Ans) The basic IELTS general test fee is Rs.15,500.
Basic IELTS
Ques 1) What is the registration fee for IELTS?
Ans) In India, the registration fee for the IELTS exam from April onwards is INR 15,500. Join our IELTS institute in Sangrur now.
Ques 2) How can I register for IELTS?
Ans) IELTS is conducted by IDP & British Council. You can register and pay for IELTS through a range of payment options. For more information on the registration process & payment options, please visit: British Council Exam Registration or IELTS IDP India.
Ques 3) What is the validity of the IELTS test?
Ans) The validity of the IELTS test is 2 years from the day you took the IELTS test.
Ques 4) When will I receive my IELTS result?
Ans) You will receive your test result after 13 days.
Ques 5) What are the facilities available at IBT Sangrur?
Ans) Smart classes, experienced teachers, latest study material, daily flashcards, grammar & vocab classes.