IBT: Best IELTS Coaching Institute in Gwalior
Gwalior is a hub of language classes which has led to the mushrooming of a reputed IELTS center in Gwalior. IBT Institute has earned a name in Gwalior with the success rate rising every year with as much as 80 percent of their registered candidates. Join IBT Gwalior for IELTS to score the desired band score.
Why IBT is the best IELTS Institute in Gwalior?
If you are planning to appear for the IELTS in Gwalior, then it's very important to find an institute that can provide the best practice material and experienced teachers. IBT has given outstanding results in the past several years. A great number of students have obtained more than 7 bands after taking classes from IBT. Join the best IELTS coaching in Gwalior right now.
IBT

Special Features
The salient features that makes IBT a unique coaching hub for the aspirants are:

Free Study Material

IBT provides free Study Material to all the students. Books Kit contains 9 Books which is updated on a regular basis.

India's Best Selling Study material.

Smart Class Room

All our classrooms are equipped with projectors which makes the learning very interactive.


Tests very close to Final Examination.

Full Day Classes

IBT provived full day 8 hours classes to our students. We cover all four modules twice a day for best results.

Best Magazine for Competitive Exam
IBT is ranked amongst the reputed coaching institutes due to its highlighted features.
100+ Centers across India

10+ Years of Presence

1 Lakh+ Success Stories

09 IELTS Book Materials

Trainers Certified from IDP & BCD

ISO 9001: 2008 Certified IELTS Coaching Centre in Gwalior

Small Batch Size having 15-20 students only

Teaching through Smart Classes

Full Day Classes where student can attempt all four modules twice.

Daily Grammar Classes

Top choice of students for IELTS Coaching Gwalior

Weekly Mock Test as per final exam pattern
IBT is No. 1 IELTS Institute in Gwalior not only in terms of study but in terms of infrastructure as well.
| | | |
| --- | --- | --- |
| | | |
| Front Desk View | PTE & Listening Lab | Smart Classrooms |
The success story of IBT can be visibly seen from our top band achievers.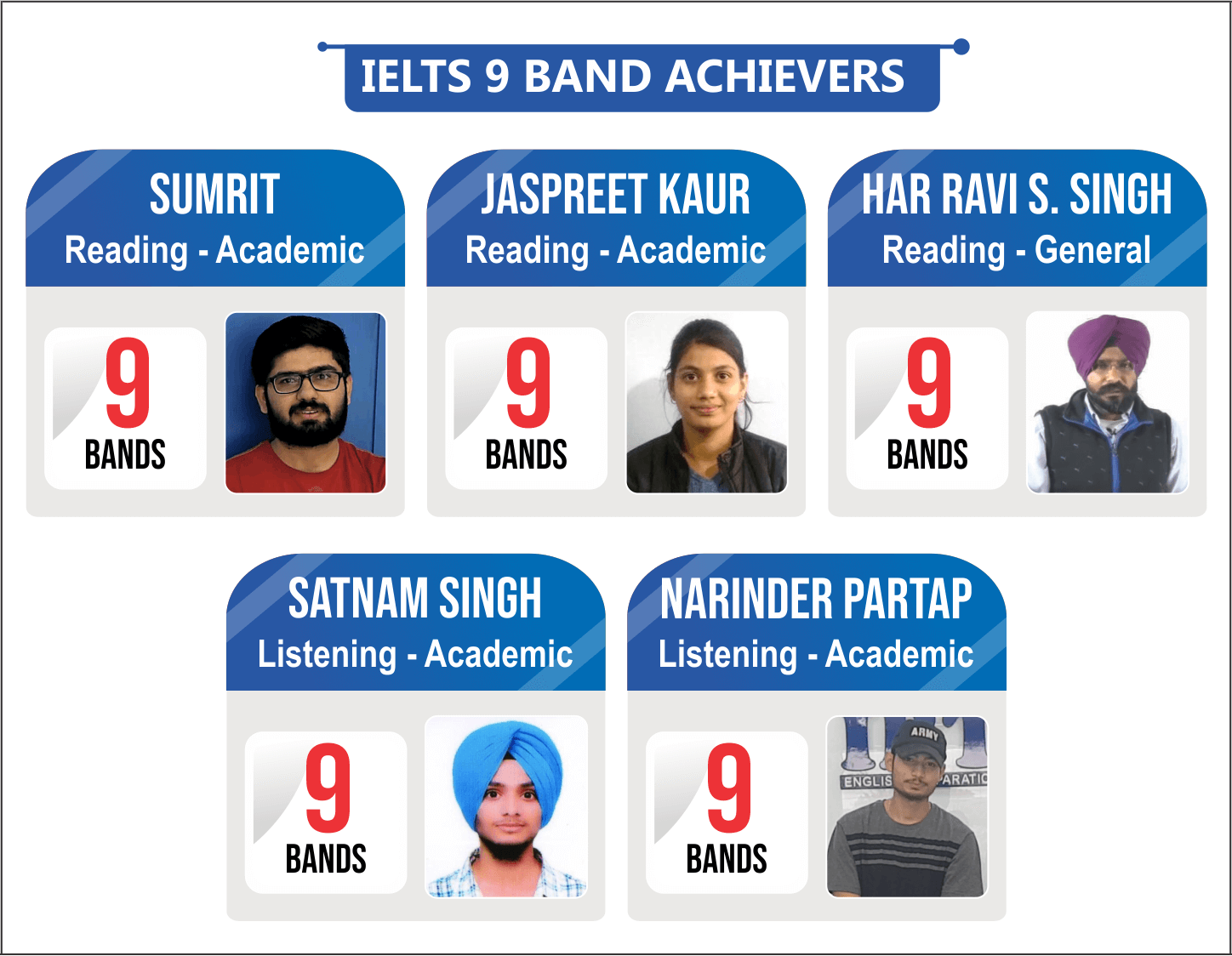 The class activities of IELTS students is managed as given in the table below:
| | |
| --- | --- |
| Vocabulary Building | Hesitation Removal |
| Fluent Conversation | Pronunciation Improvement |
| Group Discussions | Newspaper Reading |
| Motivational Video Lectures | Audio/Video Clips with Tapescripts |
The teaching methodology is very well planned to impart proficient training and guidance with the essential attributes these are:
| | |
| --- | --- |
| Small Batch Size | Multiple Cabin Speaking |
| Smart Class Rooms | Level Based Learning |
| Frequent Doubt Sessions | Scheduled Course Material |
| Personal Attention | Certified & Experienced Faculty |
Other Reasons to Choose IBT for IELTS in Gwalior
IBT follow level based approach that helps students to clear their doubts and study in the batch as per their level. There are three levels: Beginners, Learners, and Movers.
Students can attempt all the modules twice a day with detailed discussion of the modules. Pre and post discussion of each module helps to understand the basic concepts in detail.

Learning at IBT Institute is done in smart class, as this is the latest technology which helps to make learning interesting and effective.

Trainers pay personal attention to each student which helps students to ask questions without any hesitation. Separate sessions can also be provided for IELTS Coaching in Gwalior.

Special doubt sessions of each module is conducted to overcome the difficulties which students face while attempting the test.

Daily performance report of writing and speaking is given to the students so that they know about their weakness.

Learners do speaking in the same environment as they get in the exam that is cabin speaking is there for students to help them to overcome their hesitation to speak in front of invigilator.

Special grammar classes are arranged for the students who are unable to understand the English language.

Vocabulary is always a hurdle for the learners and in IELTS class at IBT, several activities are conducted to make vocab learning easy and effective.

Time to time counselling of weak students is done by the management to know about their problems they face during learning.

Also, the free demo sessions are conducted for he new comers before taking admision at IBT Institute, so that they can be familiar with the techniques used by the experts at IBT institute.

Fluency and pronunciation in speaking module is improved by the special sessions conducted by the highly experienced faculty and the video and audio lectures are played in the classrooms to encourage and motivate the students improve their speaking skills.

Effective exam preparation tips and techniques are shared with the learners to improve their reading and writing module.

English speaking environment in the classroom also contributes to overcome the hesitation of the students to speak in front of others.

Newspaper reading is done as an activity to improve the reading and speaking skills at our IELTS Center in Gwalior.

Also, IBT Institute is providing the facility to its students to register for the real exam at discounted fee less than the actual fee.

IBT Institute conducts the reality test for IELTS once in a month so that the students can be familiar with the real exam pattern and environment, the best part of the reality test is that it is free of cost and is also for the aspirants who are not from IBT family.

IBT provides IELTS Coaching in Gwalior at the prime location near bus stand so reach over there is not a big deal, one can easily reach the location in less time.
Join the next batch at the best IELTS Coaching institute in Gwalior. You might also be interested in IELTS exam dates calendar.
Our Testimonials
Still not convinced? See what our happy customers have to say about us.

Good institute for the study and they have best and experienced teachers such as Mr. Kumar Sambhav. Moreover, they are dealing with other events such as sports and other cultural activities which are good to boost students' confidence.
* * * * *
Jagpreet Singh
Good experience. All the four modules are explained very well with proper examples and guidelines. All the materials are being provided here only.Good environment and excellent support to students.
* * * * *
Harkamal Singh
IELTS is designed and developed by the experts after making extensive research before validating it. It is one of the most trusted tests of English Language. It is held four times a month on different dates at different test locations. One can opt according to one's convenience and availability. The examiners for IELTS are trained and monitored by IELTS makers regularly to maintain the standard of testing to match the world standards. IELTS offers a choice according to the purpose of your application i.e for study, work, or permanent migration. One never fails in IELTS as the results are on the basis of bands from 0 – 9, which are allotted to measure all levels of communication skills of the English language. Join no. 1 IELTS institute in Gwalior to score a 7+ band score.
IELTS preparation begins with the command over English language and there must be a prepared state of mind to demonstrate English skills in an optimal way. Both British council Cambridge English Language Assessment [BC] and The International Development program of Australian University and Colleges [IDP] conduct the IELTS exam.
The pattern of IELTS exam 2020 is composed of 4 modules that are listening, reading,writing and speaking. There are two formats of IELTS namely ACADEMIC and GENERAL TRAINING but now IELTS become more advanced as CD- IELTS is also available for the technology lovers. Candidates can give their IELTS exam as paper-based or either computer-based, it depends upon the preference of the candidate. For detailed difference between IELTS Academic or GT refer this article.
Academic IELTS is for the students who want to take their higher education abroad while, General training IELTS is for the migration in english land or for the work purpose. There are four modules in both types of IELTS. In academic and general training listening and speaking modules are the same but reading and writing modules are different in case of content and text but number of questions are same. In writing module writing task 1 is different as in academic it is bar graphs or maps whereas in GT it is formal or informal letter but writing task 2 is same in both. In the reading module the content in academic is taken from documentaries whereas in GT reading content is taken from the newspapers or journals. Read more about IELTS exam overview.
IELTS Academic Test Pattern
Join best IELTS coaching in Gwalior for craking your exam in first try. But before that lets have a look at the test pattern for IELTS Academic:

IELTS GS Test Pattern
The test pattern for IELTS GS is given below:


For more queries and info visit our IELTS Center in Gwalior. Feel free to check out the videos on their official youtube channel for more clarity about the IELTS test.
How is IELTS scored?
IELTS results are reported on a nine-band scale. In addition to the score for overall language ability, IELTS provides a score, in the form of a profile, for each of the four skills (Listening, Reading, Writing, and Speaking). These scores are also reported on a nine-band scale. All scores are recorded on the Test Report Form along with details of the candidate's nationality, first language and date of birth. Each Overall Band Score corresponds to a descriptive statement which gives a summary of the English language ability of a candidate classified at that level. Our teachers providing IELTS Coaching Centre in Gwalior understands the marks systems complety. The nine bands and their descriptive statements are as follows:
| | |
| --- | --- |
| 9 Bands | The expert user has fully operational command over the language. He/She is accurate and fluent with complete understanding. |
| 8 Bands | Very good user has fully operational command over the language with only occasional unsystematic inaccuracies. Misunderstandings may occur in unfamiliar situations. He/She can handle complex detailed argumentation well. |
| 7 Bands | Good user has operational command over the language with occasional inaccuracies and misunderstandings in some situations. Generally, he/she handles complex language well and understands detailed reasoning. |
| 6 Bands | Competent users has, generally, effective command over the language despite some inaccuracies and misunderstandings. He/She can use and understand fairly complex language, particularly in familiar situations. |
| 5 Bands | Modest user has partial command over the language, coping with overall meaning in most situations, though is likely to make many mistakes. He/She is able to handle basic communication. |
| 4 Bands | Limited user is limited to familiar situations. He/She has frequent problems in understanding and expressing. He/She is not able to use complex language. |
| 3 Bands | Extremely limited user conveys and understands the general meaning in very familiar situations. |
| 2 Bands | Intermittent users can face no real communication except for the most basic information using isolated words or short formulae in familiar situations. He/She has great difficulty understanding spoken and written English. |
| 1 Band | Non-user essentially has no ability to use the language beyond using the words in isolation. |
| 0 Bands | Did not attempt the test — No assessable information. |
Most universities and colleges in the United Kingdom, Australia, New Zealand and Canada accept an IELTS Overall Band Score of 6.0 or 6.5 for entry to academic programs. IELTS scores are increasingly being recognized by universities in the USA. Want to join IELTS in Gwalior?
IELTS Reading/Listening Bands Table
The band score table for IELTS Reading/Listening is given below for your ready reference:
Reading Bands Table
Listening Bands Table
Academic
General Training
Band Scores
Academic/General
Band Scores

13 - 14

19 - 22

4.5

13 - 15

4.5

15 - 18

23 - 26

5.0

16 - 17

5.0

19 - 22

27 - 29

5.5

18 - 22

5.5

23 - 26

30 - 31

6.0

23 - 25

6.0

27 - 29

32 - 33

6.5

26 - 29

6.5

30 - 32

34 - 35

7.0

30 - 31

7.0

33 - 34

36

7.5

32 - 34

7.5

35 - 36

37-38

8.0

35 - 36

8.0

37 - 38

39

8.5

37 - 38

8.5

39 - 40

40

9.0

39 - 40

9.0
Here is a detailed article in how you can calucalte IELTS overall band.
IELTS FAQ
Some of the frequently asked questions for the IELTS exam and the facts related to it are given below:

In India, the registration fee for the IELTS exam was INR 13,250 till March 31, 2020. For all tests administered up to March 31, 2021, the fee is INR 14,000. Join IBT for IELTS Coaching in Gwalior now.
IELTS is conducted by IDP & British Council. You can register and pay for IELTS through a range of payment options. For more information on registration process & payment options, please visit: British Council Exam Registration or IELTS IDP India.
Q3) What is the validity of the IELTS test?
The validity of the IELTS test is of 2 years from the day you took the IELTS test.
Q4) What is the minimum age requirement for the IELTS Test?
As per the norms and conditions, those who are under 16 are not eligible for the IELTS test.
Q5) What are the available IELTS test dates?
Four test dates are available every month. IDP & BC give 48 fixed dates in a year. Check IELTS exam calendar.
Q6) How can I book or register my IELTS test?
You can book your test either through the official sites of IDP/ BCD or your IELTS test center.
Q7) What if I need to postpone or cancel my IELTS test?
The candidate needs to inform five weeks before your test date.
Q8) What does IELTS mean?
IELTS means International English Language Testing System.
Q9) How many times can I take the IELTS test?
There is no such specification. You can take the IELTS test as many times as you want.
Q10) When will I receive my IELTS result?
You will receive your test result after 13 days of the test day.
Q11) What is the fee for the IELTS test?
IELTS test fee is Rs.14,000 for both academics and GT.
Q12) What is the difference between IELTS Academic and IELTS General?
Academic IELTS Academic is conducted for the students who want to pursue higher education; whereas, GT IELTS is conducted for the job or business purpose.
Q13) How is the IELTS test marked?
IELTS test is marked between 0 and 9 bands. Writing test is marked by a minimum of two examiners and sometimes even up to three or four examiners. You can view your IELTS results online.
Q14) What if I lose my IELTS test report form?
The Candidate needs to contact the test center where he has booked his test. Otherwise, the candidate has to contact IDP or BCD Office. IBT Gwalior provides the exam booking and IELTS Coaching Gwalior.
Q15) How soon can I re-sit the test?
You need to take the test before 13 days of the deadline. The deadline is decided by the IDP or BCD.
Q16) What if I feel my test result is wrong?
In this case, you can request for the re-evaluation of the IELTS test result.
Q17) Which countries accept IELTS score?
There are more than 140 countries that accept IELTS scores including the UK, Australia, Canada, New Zealand and the USA.
Q18) What can I take into the examination room?
You only need to bring your passport & stationery with you in the IELTS exam room.
Q19) How to crack IELTS exam?
The English language has become the part and parcel of our lifestyle, be it the workplace, meeting people or studying abroad. IBT has a solution to meet this challenge by initiating various language ethics programs. We deliver our programs with efficiency and speed to give the right direction and at the right time. We are connecting with the young generation with creative ideas. IBT is the right destination to meet all requirements which are based on the English language, be it teaching English or taking an exam or studying abroad. We offer flexible IELTS programs in Gwalior to get their score in IELTS private or IELTS group lessons. Here is a guide to prepare for IELTS exam online.
Q20) How much IBT Gwalior does charge for IELTS coaching?
The fee varies as per the course duration. For 1 Month the fee is Rs. 7700/- and for 2 months it is Rs. 11900/-.
Q21) Why choose IBT for IELTS exam preparation?
IBT is known for providing the best results in the IELTS exam since 2009. We have a team of experienced trainers working continuously to enhance the students' capabilities for achieving higher bands. We have a record of producing 7+ Bands in all four modules.
Q22) What are the facilities available at IBT Gwalior?
Smart classes, experienced teachers, latest study material, daily flashcards, grammar & vocab classes.
Q23) What is the duration of IELTS classes in IBT Gwalior?
It's 4-8 hours every day from Monday to Friday. Mock tests are conducted every Saturday. Duration varies from 1 month - 3 months. You can join our IELTS center in Gwalior.

Q25) Why IBT is a No. 1 IELTS institute in Gwalior?
IBT is known to produce excellent results in the IELTS exam. More than 80% of students at IBT are able to get 6.5+ bands in the IELTS. This is why IBT is best IELTS institute in Gwalior.
Q26) When new IELTS batch is coming at IBT Gwalior?
IBT Gwalior starts a new batch every Monday and Thursday for different slots like 7-9 am,9-2 pm, 9-5 pm, and 4-6 pm.
Q27) What is the success rate of IBT in the IELTS Exam?
The success rate in IBT is more than 80% in both IELTS Academic and General Training exam.
Q28) Does IBT Gwalior provide a demo class for IELTS?
Yes! IBT Gwalior provides a free 1-day demo class for IELTS Coaching in Gwalior.