Are you devotedly searching for the right English speaking course in Ludhiana? Then IBT English can become your soulful partner in attaining great proficiency in the English language. Without a doubt, spoken English is merely not teaching grammar to the students as almost all the institutes are doing but it has a lot many to improve learner's personalities.

We at IBT works on all those factors which are required for the overall personality development of aspirants like Roleplaying, Group discussion, Vocabulary building, Cue card speaking, Speech improvement, Pronunciation, debates & public speaking. We have designed the course for a different duration as per the student's level and need.
Why IBT English is the Best Spoken English Institute in Ludhiana?
With our extensive series of courses, enthusiastic training programs, and industry-typical course delivery methodology to improve students' communication skills and personality development, IBT Ludhiana will provide you with all possible facilities to help you attain great command on the entire English language. Join IBT for English speaking course in Ludhiana right now.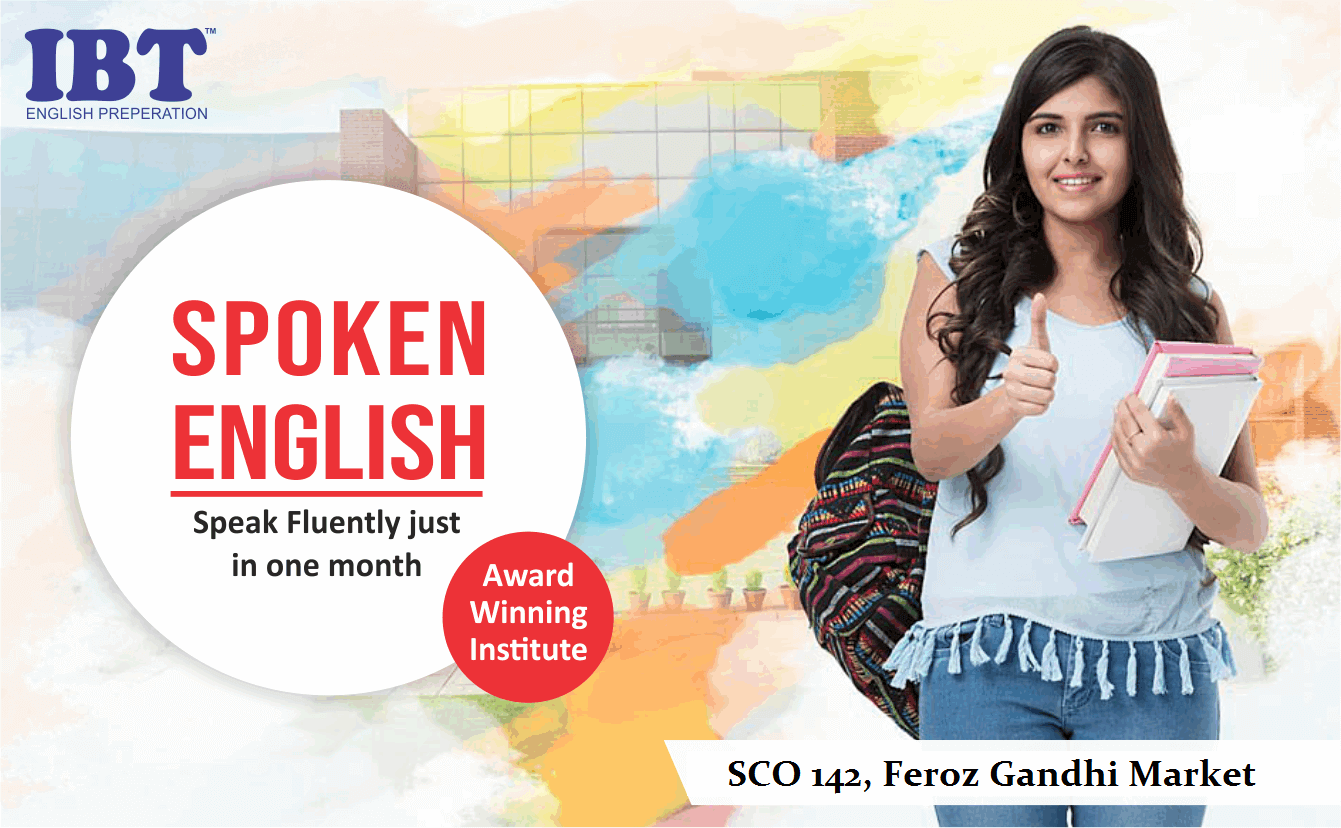 Are you aiming to find out quality information about the upcoming English Speaking batches of the IBT institute? Then read all the information listed below.
We have productive batches so that students can take the leverage of classes without any hassle.
IBT

Special Features
The salient features that make IBT a unique coaching hub for the aspirants are:
| | | |
| --- | --- | --- |
| | | |
| Free Study Material | Smart Class Room | Highly Qualified Trainers |
| IBT provides Spoken English Book along with Class Notes for better learning experience. | All our classrooms are equipped with projectors which makes learning very interactive. IBT provides the best English Speaking classes in Ludhiana. | We have a team of experienced trainers working continuously to enhance the student's capabilities endlessly. |
IBT is the paramount provider of the best English speaking course in Ludhiana not only in terms of study but in terms of infrastructure as well.
| | | |
| --- | --- | --- |
| | | |
| Front Desk View | Audio Visual Classes | Smart Classrooms |
IBT English has a top-notch staff of teachers who are not just knowledgeable but also dedicated to helping students improve their English skills. However, they can also answer the questions of studentswho have high hopes for the future. If you're serious about learning to speak English fluently, you should take advantage of IBT English's excellent resources. Several of our instructors have more than a decade of expertise teaching students in preparation for the English proficiency exams.
| | |
| --- | --- |
| Name | Experience |
| Iknoor | 2 Years of Experience |
Other Reasons to Choose IBT for English Speaking Course in Ludhiana
Result Oriented Approach
We are known for imparting result- oriented approach for helping students speak English fluently.
Magnificent Infrastructure
IBT's Infrastructure is one of the major reasons why students are choosing it for learning English.
Computer Lab Facility
Here we take everything into consideration to help students study hand in hand with advanced technologies.
ISO Certified Institute
We holds the tag of ISO-certified institute. Here we all work with the right motivation to deliver best to all the students.
Doubt Clearing Sessions
We usually takes proper doubt-clearing sessions for the betterment of a wide range of the students.
Monthly Tests
We have an adroit teaching force who have absolute knowledge about what all things are better for the students. They take monthly tests to rate the overall performance of the students.
Weekly Time Table
We are well-versed in making constructive timetables to help students attain great proficiency in the English language.
Splendid Experience
We hold great experience in transforming the career of most of the aspiration-filled students.
Daily Assignment
All the teaching members present at IBT institute basically provide daily class assignments to form a strong grip on lectures.
Revision Classes
We offer quality revision classes so that students can clear the spoken English exam in the first attempt.
Regular Grammar Check
The faculties of IBT English usually take daily grammar check classes. So that students can strengthen their basics for the upcoming spoken English test.
Adept Teachers
We basically have a great teaching force who knows how to help students strengthen their weak points in the limited time frame.
About English Speaking Course in Ludhiana
If you want to communicate fluently in English, this is the course for you. If this is the case, IBT English is your best bet. Here, you can be confident that you'll get the help you need to support the students to succeed. With the help of IBT English, you can now speak fluent English as well. So put your employment on hold and connect with IBT institute's proper teaching force for a career shift.
Source to transmit your views
English is believed to be one of the simplest languages used to express anything. It is used to enhance communication and encourage queries with variations in tone, pace, and volume. It holds the flag of persuading and negotiating to arrive at an agreement that is acceptable at both ends to have a winning situation. Enables us to think logically and retain the thought process. Enable to evade disagreements with tact.
Spreading magic amongst the audience by way of a presentable and interesting message and using a perfectly structured presentation and audio-visual aids effectively to build a rapport with your audience. Need help when you need it. Research says that asking for help with something (within reason) makes you more liked by the person you ask! Are you burning the midnight oil to attain great excellence in English? Then without thinking further connect with the English speaking course in Ludhiana.
To express feelings and emotions
In case you are working, traveling, studying, or living in an English-speaking country, there is a dire need to communicate and express your emotions and thoughts fluently. As a human being our mood swings throughout the day which can be moulded by using some expressive words and phrases to convey it decently and politely.
The renowned official language to correspond
This language has earned the second official language of the world which has made it easy to converse with those having adequate knowledge of this particular language. It has broken all the professional and personal barriers for those who want to converse or communicate with the world.
Easy mode of communication
English is one of the easiest languages in the world to learn. It might sound funny yet it has the power to break the barriers of casts, gender, and word agreement with its easy and simple grammar rules. Feel free to join IBT for Spoken English classes in Ludhiana.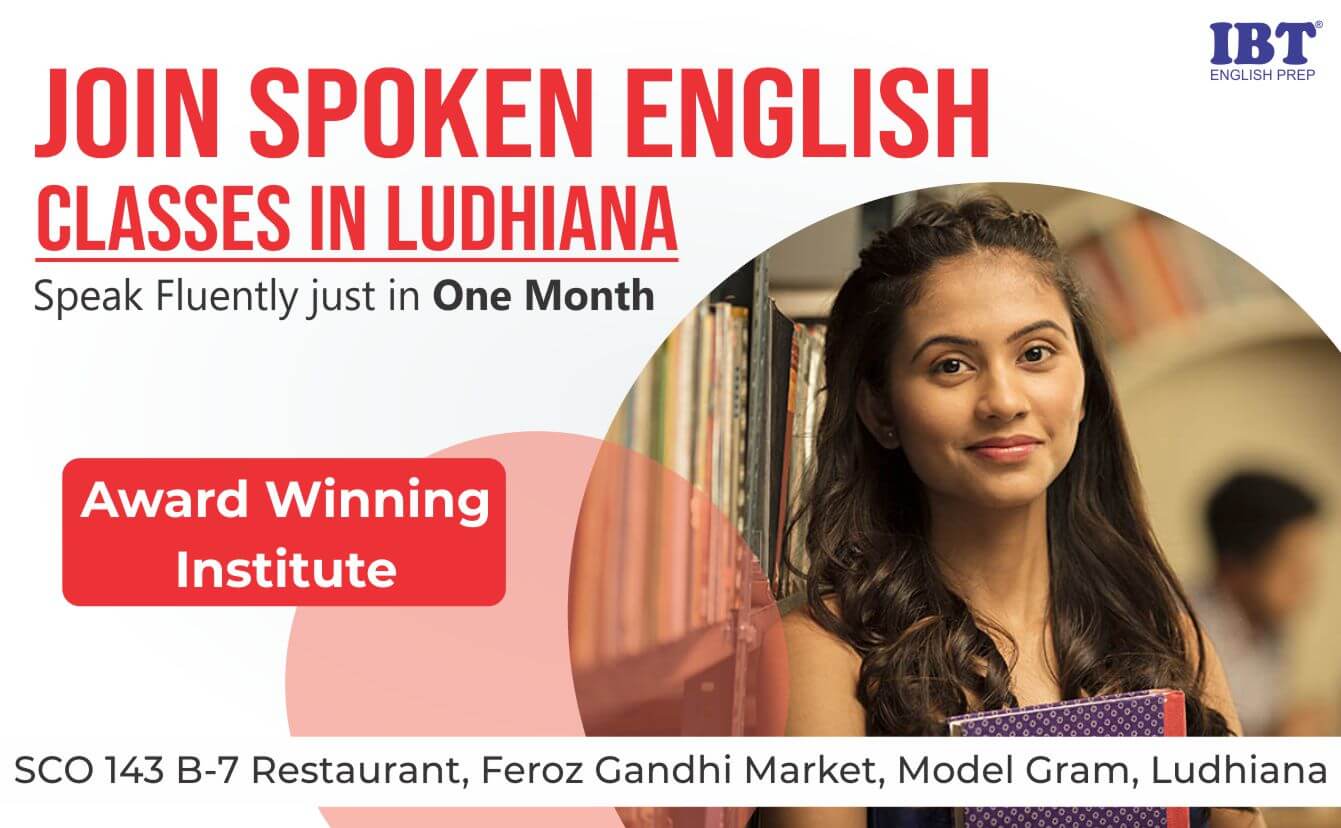 Course Objectives
After successfully completing the course you will be able to:
Structure grammatically correct sentences in English.

Speak fluently in English in whichever circumstances you will be under.

Articulate yourself in groups of people assertively.

Competent to present your feelings more lucratively.

Contribute your views and opinions at higher levels in Group Discussions and meetings.

Express yourself more assertively in personal interviews.

Converse in Neutral Accent and also lift up UK/US Accent.

Converse and articulate ideas/suggestions/analysis in Business English using the most recent vocabulary and Corporate English.

Convey effective presentation and augment the eminence of content in e-mails.

A candidate who experiences these phases in elaborate and basic teaching sessions and one is capable to take in the language in a small measure daily.
You will achieve all the above-mentioned goals in English Speaking Classes Ludhiana.
The IBT is known as the best Spoken English institute in Ludhiana as follows a result-oriented English Speaking approach to help our students achieve quick improvements.
Sentence configuration:- Sentence formation/structure is the soul of English because we use modifiers (a modifier is a word or phrase that offers narrative in a sentence). However, if we put the modifier in the right position leads to correct sentence formation.

Headway:- The process to develop or headway gradually towards a more complex state Good dominion on English for career progression is a must. Enroll in the IBT one of the best English speaking course in Ludhiana.

Vocabulary addition:- It is an art to enhance the thought process by including more vocabulary words in sentences to make them more useful to clarify their connotation.

Complex structure formation:- This segment focuses on the particular user which is repeatedly bothersome to students having a poor command of this language. After having control over sentence formation, further consideration is paid to the sanitization of those sentences by adding up idioms, phrases, conjunctions & prepositions to make sentences complete and remarkable.

Acquire Fluency:- It is the aptitude to speak or write language & express oneself effortlessly & correctly.
The class activities of Spoken English students are managed as given in the table below:
| | |
| --- | --- |
| Vocabulary Building | Hesitation Removal |
| Fluent Conversation | Pronunciation Improvement |
| Group Discussions | Newspaper Reading |
| Motivational Video Lectures | Audio/Video Clips with Tapescripts |
To Build Vocabulary
An artist is an artist with a box full of artifacts. All the attributes are not used once yet it holds value. Similarly, writers have artifacts. These artifacts are enhanced with every step they walk with their magical verses with apt use of grammar and other linguist skills like punctuation, capitalization rules, rhyme, rhythm, and vocabulary. Just as in fact good artists pull out the best artifact to beautify the sourced picture or sculpture to enhance it further, an avid writer will spill all the green beans of the best language with powerful verses and vocabulary usage to beautify the write-up. Thus, IBT assists to fill your artifacts with rich vocabulary in English Speaking Classes Ludhiana.
To Remove Hesitation
Never, hesitate to do anything incredible and feel shy or think you could fail. You will be surprised to see a tremendous change in you, give yourself a second chance to feel the magic. Therefore, we support you to break the walls of dithering and speak aloud to express your thoughts despite the counting listeners.
Acquire Fluent Conversation
Fluency in a language means being able to speak easily, sensibly quickly and without any pause. Communication is an integral part of speaking and it is significant to communicate your ideas as logically as possible on any occasion. If you want to speak English fluently then enroll yourself in the English speaking course in Ludhiana.
Proper Pronunciation
Pronunciation is the most significant and tricky part that non-native English speakers have to face when studying English. Incorrect pronunciation can lead to unenthusiastic thought, misunderstanding, and ineffective communication.
Organizing Group Discussions
Group discussion involves the exchange of ideas where significant effects are learned from each other through active interaction. You may also require obtaining learning from other sources to recognize a topic. Different foundations are available to different students.
Practicing Debates
Students occupied in Speech & Debate build up higher-level thinking skills through relevance, analysis, fusion, assessment, and creativity. They come to appreciate what they believe about the topics that are brazen out in our culture.
Inculcate Public Speaking
Lack of communication skills, the capacity to improve in the working world and in life, itself, would be nearly not viable. Public speaking is one of the most significant and most alarming forms of communication.
Reading Newspaper
Reading newspaper is an excellent routine that can give immense intelligence to enhance the educational value. Newspapers make available news about a country's economic situation, sports, games, entertainment, trade, and commerce. Reading newspapers formulates a good custom and it is now a part of modern life.
Develop Extempore Skills
The means to extempore speaking is that the words spoken are selected as we converse them, and what is delivered is a rivulet of awareness that is confident, scholarly, and articulate while being unscripted. Effective extempore speaking at all times has the rationale of the awarding and the impact in the heart of the audience.
The teaching methodology is very well planned to impart proficient training and guidance with the essential attributes these are:
| | |
| --- | --- |
| Small Batch Size | Multiple Cabin Speaking |
| Smart Class Rooms | Level Based Learning |
| Frequent Doubt Sessions | Scheduled Course Material |
| Personal Attention | Certified & Experienced Faculty |
Small Size Batch
IBT guarantees to provide a small size batch to enable personal attention and better interaction with the instructor to achieve the finest outcomes.
Provide Smart Class Rooms
IBT has a contemporary infrastructure that is very well-equipped to match the standards of the real test venues. Make sure to join the most excellent classes with us. Classes are operational with Projectors and LED to offer online video lectures.
Arranging Doubt Sessions & Interviews
Doubt sessions are given regularly to wrap up the qualms of every student. We arrange cabin interview sessions to familiarize them with the actual final interview experience. This makes IBT the English speaking course in Ludhiana.
Enable One to One Interaction
IBT guarantees personal attention to every student to conquer the shortcomings. It offers a small batch size with not more than 10-15 Students in a single batch. Our qualified trainers also spotlight communication, fluency & correctness.
Planned Course Material
We offer the study material with the latest up-gradation and approaches to be a covenant with several situations to express your views. Expressive introduction to advance vocabulary along with the correct usage to clarify its meaning. Educate both formal & informal conversational skills.
What is Personality Development?
In this contemporary world, there are plenty of procedures to deal with the subjects that we countenance in our personal and professional life. The most significant of them are issues related to their own selves. Occasionally we appreciate that it is not any external force that is generating the trouble, but there is something not correct in us and we are not getting the preferred outcome of our work.
Though, the trouble can be deciphered as well. We require expanding ourselves and need to understand the significance of attending any good personality development course. We are recognizable with the term "personality development" but only some of us know the meaning of it in its real sense. What does personality development mean? We repeatedly speculate about this discussion.
Personality Development Meaning
Personality development is the comparatively permanent prototype of opinions, feelings, and behaviors that differentiate individuals from each other.
Personality Development characteristically means to enhance and groom one's outer and inner personality to bring about an affirmative change to your life. Each individual has a discrete personality that can be urbanized, cultured, and polished. This process includes to boost one's confidence, humanizing communication and language-speaking aptitude, to widen one's range of knowledge, mounting certain hobbies or skills, erudition fine etiquettes and manners, adding style and elegance to the way one looks, talks and walks and to imbibe oneself with positivity, sparkle, and tranquillity.

Personality development is not anything but an instrument to assist you to realize your capabilities and your strengths making you a stronger, happier, and more positive person.
Personality Development Requirement
This is not an incredible supplementary in our life, which can be overlooked. It is an essential need to get hold of accomplishment and contentment in life, be it personal or professional. You could be an efficient team manager or have higher educational qualifications or may know all the newest skills of your field, but none of these can assist you to attain your much-loved goal unless you know how to be a level-headed person in life. First of all, you require building up your skills as a person, and then you can use any of your other specialized talents to electrify people.
Fundamental Tips for Personality Development
Always be yourself. Never try to be a copycat. Be optimistic and convinced about your own individuality.

Be trained to converse well, and perk up your English speaking skills. For personalised assistance, you can enrol in the best English speaking course in Ludhiana.

Understand the disparity between self-reliance and superiority. To demonstrate your poise you don't need to be impolite to anybody.

Build a plan in your life and try to maintain the protocols of the plan throughout your life.

Become a patient listener, give enough chance to others to express their thoughts, and then listen to them carefully in a debate, or else you cannot make them speak while you are conversing.

Always be the owner of a spotless mind, body, and approach. The owner of a pleasant personality with an unsoiled mind can win worse circumstances.

It is imperative to be work hard but it is desirable to work smart to have productive outcomes while enjoying your work.

Be wise while spending time and money, both are valuable.

Always be moderate and courteous, but at the same time be compact while organizing something. Never let anyone take any undue advantage of your graciousness. Be obliging to everybody.

And the most imperative attribute is, to be honest in your private and professional life.
Hope this discussion will help you to understand what personality development is and also help you to obtain sharpness in your personality. Give us a call and we will explain why IBT is the best Spoken English institute in Ludhiana.
FAQ's
Q1) What is the registration fee for Spoken English classes?
Ans: The student can enrol with us by just filling the form and paying the 500 rupees in advance that will be added to the wholesome fee.
Q 2) What are the benefits of joining IBT's English speaking course in Ludhiana?
Ans: The student will get a chance to study with experienced teachers. Moreover, the student will get facilities like small size batches, quality study material, magnificent infrastructure, mock test series and more.
Q3) Will I get result-oriented classes in the IBT institute?
Ans: Yes, you will get quality result-oriented classes that can help you grab the essence of English in a limited duration.
Q4) What is the overall fee of one month of spoken English classes in Ludhiana?
Ans: The students have to pay rupees 4000 for learning spoken English from the IBT institute.
Q5) Why is IBT a No. 1 spoken institute in Ludhiana?
Ans: IBT is known to produce excellent results in the spoken English exam. More than 80% of students at IBT are able to get great points in the spoken English exam after receiving guidance from IBT. This is why IBT is the best spoken English Institute in Ludhiana.